Product Review!! Aunt Jackie's Curls & Coils Quench! Moisture Intensive Leave-In Conditioner
08:00:00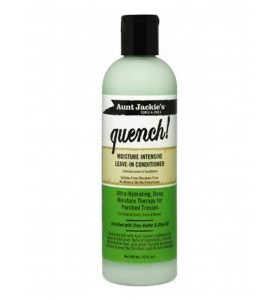 Hi Guys!
What a fantastic start to the new year,, rain.. rain and more rain, not a weather for those of you.who has spent hours, preparing and styling your hair the day before you go out to work or where ever you may be attending, with this rain, your hair gets frizzy and looks limp.. then frustration kicks in, how annoying right? Because of the precious time spent in styling your hair, and longing for your hair to look good. Well that happens all the time, that is what makes our hair special, because of the versatility of our hair, in situations like this, we can use products that helps revive our curls, in order for us to restyle our hair.
So I came across Aunt Jackie's Curls & Coils Quench leave-in Conditioner, and let me tell you... this product does what it says on the product. It help nourish, moisturise and quenched my dry curls, and this is just the leave-in conditioner. I want to share my experience of this product, and give you my honest review, this is not a sponsored article, it is my own view and opinions and I did purchase this product myself.
About Aunt Jackie
Aunt Jackie created a product line of natural hair products, that is dedicated to providing, you and me the very best, high-quality hair care product line, that provides solutions for all hair types. They home in on those that has wavy, coiled, kinky and mixed textured hair, their product is created to help us manage, care, maintain and style our hair with great ease, and at the same time, help to keep our hair healthy and looking beautiful.
What makes their product range set apart from the rest?
We have touched on what Aunt Jackie is about and why they have created this natural hair product line, but what makes them different of all of the products that are out there. It all lies in what they are using and what they have excluded from using in their product, that makes them more unique and tailored for our usage. They use Eco friendly preservatives to ensure high quality , sustainable products, that provides us a long shelf life product, their products are sulfate free, paraben free and contains no Mineral Oil or Petrolatum. The ingredients they use that provides your hair with added slip is brilliant for detangling is called Marshmallow Root, making it easy to manage and tame unruly and frizzy hair.
Aunt Jackie's Line
They have three different lines tailored to you hair requirements and needs, to find out what their range is and how it can benefit your hair according to your hair needs, please click on the links below:
Review!
Aunt Jackie's Curls & Coils Quench Moisture Intensive Leave-In Conditioner
Is your hair thirsty? You need to get on and keep it hydrated! How? Try the Aunt Jackie's Quench Leave - In Conditioner. It will give you long lasting moisture, yes I said long lasting moisture, which it did for me, incredible slip and softness which you get from this fabulous ingredient called Marshmallow Root, Shea Butter and Olive Oil This is a deep moisturising product that will hydrate your parched tresses and will eliminate dryness.

What is Marshmallow Root?
This is a great herb that is beneficial for skin healing, smoothing hair and improving digestion and so much more, we could be here all day, but you can picture the added benefits of this herb.
Marshmallow Root is great for soothing and relieving your scalp and hair, it is supper slippery, which gives you great slip for detangling, and it has rich proteins and vitamins.
I decided to use the Aunt Jackie's Curls & Coils Quench Moisture Intensive Leave-In Conditioner, on dry hair ( hair that was in a protective style, that had been taken out, to be re-moisture and sealed, before styling back in the protective style.) I thought this would be a great opportunity to try out my new product, to see if it lives up to what it says.
I split my hair into sections, sprayed each sections with water and aloe Vera juice. I then applied my leave-in conditioner into each sections, to ensure sections had a good amount of this product. This product is quite watery, and so you only need to apply a small amount for each sections. This was applied from tip to roots, as I wanted to ensure my ends is well moisturised more than the rest of my hair.
A little does go a long way, even if your hair is not totally wet, the little used will cover your entire head, well it did for me! This is a great money saver and will last you a long while, and it will make your hair feel well conditioned.
I was very impressed with the results, it did provide great slip, that enabled me to finger detangle my hair with such ease. My hair felt alive, soft and my curls came back, they felt well moisturised and quenched! The lightness of this product, did not make my hair feel weighed down, the smell is amazing, it reminds me of Barrett's Fruit Salad Sweets, that nice tropical sweet smell... hmmmm...ha..ha..ha very nice indeed!
Ingredients
Aqua, Cetearyl Alcohol, Glycerin, Cetyl Alcohol, Aloe Barbadensis Leaf Juice, Behentrimonium Methosulfate, Parfum, Althea Officinalis Root Extract, Argania Spinosa Kernel Oil, Panthenol, Ulmus Rubra Extract, Magnesium Nitrate, Citric Acid, Hydrolyzed wheat protein, Methylchloroisothiazolinone, Magnesium Chloride, Methylisothiazolinone, Phenoxyethanol, Potassium Sorbate, Limonene,Hexyl Cinnamal, Linalool, Amyl Cinnamal, Butylphenyl Methylpropional, Benzyl Alcohol, Citronellol, Hydroxycitronellal, CI 19140, CI 42090
I would recommend you to try this product to experience this product for yourself, I enjoyed using it, it did eliminate dryness, I did give my hair softness and my hair felt very hydrated. Have you tried this product? Did it provide your hair with slip and softness? What is your overall experience in using this?
I hope you have enjoyed my article, and I have perhaps inspired you to try this out! If you would like to see more of this, do kindly subscribe to my blog, by clicking on this link:
Follow
Lets start the new year with products that will provide you with what your hair goals and aspirations are for 2016. Remember it is not about the type and texture of your hair that matters, if you hair is dry and lacking elasticity, then you need to look for products, that will accompany your hair's needs.
If you hair is lacking moisture, then you need to purchase products that will provide you with that moisture!