Product Review Skincare Regimen Using Neutrogena Pink Grapefruit & Repair Treatment
20:51:00
I am a stapler for the simple things in life and I hate when things become complicated unnecessarily as time is very precious to me. So when It comes to a bedtime regimen for my face, It used to be as simple as wiping off my makeup with baby wipes, then I would wash my face with a Neutrogena face scrub, then use any moisturiser, and hey presto all things are good and I am ready for bed. This regimen is simple, but It was not doing my face any good, I have what they call combination skin and I do get oily in my T-Zone areas, I occasionally get breakouts on my cheeks and chin , but rarely on my forehead.
Taking time out to tame your skin properly, will benefit you in the long run, and I have just realised the importance of conducting a really good regimen, and if you are like me, or someone that hasn't got a regimen in place for your daytime and night time pampering, then perhaps after you have read this article, you may consider having one in place. I love to spend 15 mins night and day to pamper myself if I do not have a busy schedule in the morning, you see it is my escapism from the kids!
My daughter had stumbled across a website called sort my acne quiz the link is detailed below if you want to take a snooze, please do so by clicking on the link below!
At the end of the quiz, it will give you some product recommendations as to what you can use, for your skin type or to home in on the problem areas that you may have that needs addressing.
Tip
Knowing what products works together and how they can benefit your skin and knowing how or which order to use these products is very much important when you are selecting your skin care products so do make the time to do your research!
I have conducted this quiz and the products it requested for me to use are as follows:
Cleanse
Oil-Free Acne Wash Pink Grapefruit Facial Cleanse
Moisturise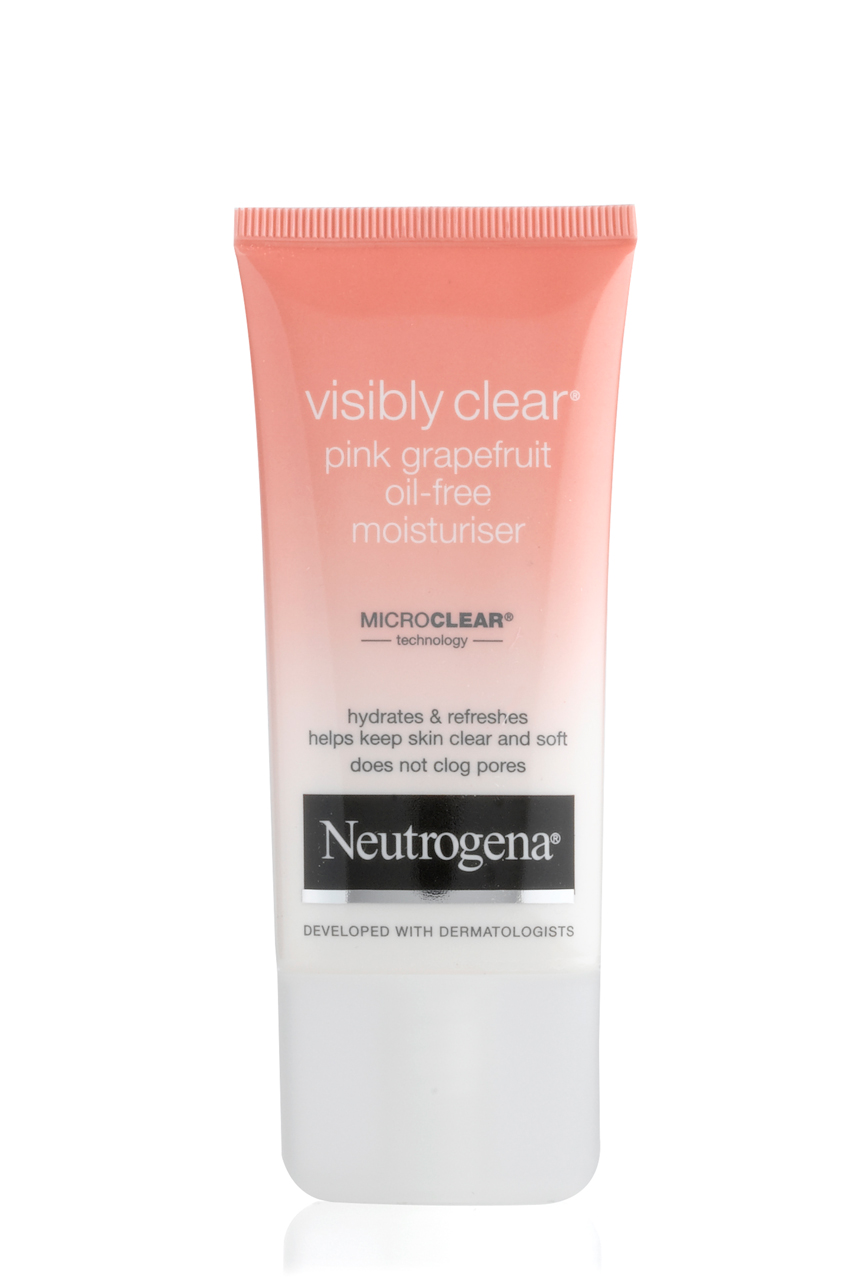 Oil-Free Acne Moisturizer Pink Grapefruit
Treatment
On-the-Spot Acne Treatment ( I couldn;t find this product so I purchased Visibly Clear Rapid Clear Treatment)
On The Go
Oil-Free Cleansing Wipes - Pink Grapefruit
The products that I will be reviewing are the top three, I did not feel it was necessary for me to purchase any face cleansing wipes as I tend to use a different method in removing my makeup which I will be sharing with you.
Review
- Oil-Free Acne Wash Pink Grapefruit Facial Cleanse
-
Oil-Free Acne Moisturizer Pink Grapefruit
-
Visibly Clear Rapid Clear Treatment
First, I would like to start off with my cleanse routine using Neutrogena Visibly Clear Pink Grapefruit Facial Cleanser. The Pink Grapefruit Facial Wash is an uplifting cleanser that gives you clearer, fresher and healthy looking skin every day! It has Microclear technology formula that helps to deeply cleanse and eliminate spots and blackheads. This product is formed as a gel and it claims that it purifies the skin without overdrying it.
The bottle comes in a 200ml bottle with a nozzle dispenser. It has a nice refreshing grapefruit smell that I find very refreshing and nice to smell. I use two pumps and find that it lathers up really well!
Morning Routine
My morning routine consists of face washing with warm water, then I apply the face wash cleanser one pump and start to use my fingers to massage the product into the skin and around my entire face. I wash this off and then I pat my face dry/ I then apply the Grapefruit moisturiser, taking the time to massage this onto my face, then I apply the Treatment Cream targeting the areas that;s needed. I allow products to settle into the skin, before applying my makeup for the day! I do find that the moisturiser works well as a great base before applying my foundation, and I do find that my foundation last throughout the day!
Night Time Routine
I wear medium coverage makeup on a daily basis, so what I like to do when it comes to my night time regimen, is to use Almond or Castor oil and apply this to my face using my fingers to massage the oil into my skin, then with a cotton pad, I use this to help remove the makeup from my face. I conduct this process three times to help remove as much makeup from my face as possible, please this makes my face super soft and supple! I then use the Pink Grapefruit Facial Wash, pump some of the cleansers onto my hands, and then massage the product into the skin, rinse off and re-apply again just to make sure that my face feels clean.
I like to apply a face mask that I purchased a while ago from Lidl, once a week, So you guys must be thinking Lidl! Who buys products from there! What?", I was curious!"... It is called Squeaky Clean Pore Pow Wow Face Mask, it is a 100ml jar and it has a white thick consistency, when applied to face, a little does go a long way, but when it sets it doesn't leave that tight tough feel that prevents you from smiling because of that horrible tightness, when I rinse off, my face feels awesome and refreshed, I am very pleased with this product.
Time to apply the moisturiser........
The moisturiser is oil free and it claims to hydrate and refresh your skin and helps to keep skin clear and soft without clogging your pores. You need to apply a fairly sizable amount to fully cover your face, it has a lovely refreshing smell and my face felt really moisturised and refresh after using it. When it dries down it leaves a really nice finish. I also find that this can work amazingly as a base coverage before applying your makeup!
After my lovely 15 min of pampering and break from my children, I then apply the Neutrogena Grapefruit Moisturizer, and I work this baby throughout my entire face, and apply the product to settle into my skin, before I apply my Visibly Clear Rapid Clear Treatment to the areas I have spots, just to let you know that it does have a slight tingly sensation which lasts for a few minutes.

Visibly Clear Rapid Clear Treatment
This product has a non-greasy formula and is clinically proven and dermatologist tested, its fast acting formula called MicroClear helps to act quickly and effectively in reducing spots in four hours, leaving your skin looking clear and healthy, plus it contains a proven spot fighting ingredient to help unblock pores. It is suitable for everyday usage you just apply the product to blemishes in the morning and night time. This product comes in a 15ml tube and priced at £4.99 from Boots.
Before & After
Spots on right side of my cheeks before purchasing of products
Spots all gone during the three weeks of using products
Summary
I do like the face wash and the fact that all products used are oil free in this range this is a big plus for me, the face wash is not harsh to my skin and it does cleanse and keep my face refreshed, I am not wowed by this product, but I am not disappointed it did help to clean my blemish so I am pleased with that, I just wish the bottle could be bigger though. I really do like the moisturiser though, it is very moisturising, refreshing and can be used in multiple of ways, when it dries it leaves a nice finish, the only thing that gets me is the size, I would love a much bigger bottle as you do need quite a bit in your hands in order to cover your entire face! The Treatment cream is just wonderful when used in combination of the other two products, it targeted my spots very well, In the four-hour of it working, I did notice a slight difference in the reduction of my spots, but in saying that, I did allow product to settle into my skin over night while I got my beauty sleep. It works very well in removing blemishes, but in the 4 hours I found that it works well in reducing blemishes, however, I do feel that you will need to use this a couple of times before you actually see spots vanishing from your face.
Overall I found that these products worked well for my skin but my favourite of al is the moisturiser and the treatment cream!

Have you used any of the above products? What does your morning and night time regimen look like? Would you recommend any of these products?